Postpartum depression (PPD) is a treatable medical illness that's brought on by a change in hormone levels after childbirth. Affecting approximately 13 percent of women, PPD can cause extreme feelings of anxiety or sadness and can interfere with a woman's ability to care for herself or her new baby.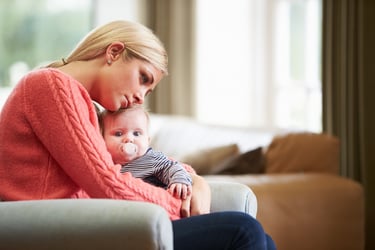 PPD can develop anywhere from a few weeks to a year after delivery, but it's most commonly diagnosed during the first three month after birth. For some women, PPD can be difficult to diagnose since many of the symptoms can be similar to the "baby blues" or other illnesses. It's important to talk to your doctor at the first signs of sadness or depression to get properly diagnosed and discuss treatment options.

Without treatment, depression can have long-term consequences for you and your baby, including inadequate mother-child bonding. Without this special bond, research shows that children can later have behavioral problems and developmental delays.

There are several treatment strategies for postpartum depression. For many women, utilizing all of these strategies together brings them the most successful outcome.
Counseling – Counseling provides emotional support and encourages problem solving, which is critical to improving your mood and helping you being more confident as a mother. It's suggested that your spouse also attend some or all of the counseling sessions to learn how to be a good support for you.

Antidepressant medication – Antidepressant drugs can be effective in relieving symptoms of PPD, but they take time to work and sometimes have unwanted side effects including weight gain, sexual dysfunction, dry mouth, or even more anxiety. Even though any medication can be transferred to your baby through breast milk, it's been shown to be safe to continue breast feeding while taking these medications. Be sure to discuss all your questions and concerns with your doctor.

Getting plenty of rest – Try to rest as much as possible. Lack of sleep can exacerbate feelings of depression.

Eating right – It's important that you maintain good nutrition to keep up your energy, especially if you are breastfeeding, as nursing a baby can make you hungrier than usual. Keep healthy foods readily available and make good choices. Also, remember to drink plenty of water.

Exercise – Try to get a little exercise every day. This can be as simple as pushing a stroller around the neighborhood.

Support from family and friends – Accept help from family and friends. They'll love to spend time with the baby, which will allow you to get some much needed rest, exercise, or time to yourself. Also, spend time with other mom; you'll quickly see that you are not alone in facing the challenges of motherhood.

Take time for yourself – This is probably the hardest thing for new moms to do, but it's important. Make time to do things you love to do. You might need to hire a babysitter or mother's helper if you don't have family or friends close by to help.

When you are living with depression, everything can seem distressing. It can feel like things will never get better.. Remember that adjusting to being a new mom is overwhelming for most women and that that you are not alone--help is just a click or a phone call away. With the right diagnosis and treatment, you'll be on your way to feeling better and enjoying your new role as a mother.

Be sure to read next week's blog on how TMS Health Solutions offers an alternative treatment option to patients with long-term postpartum depression.